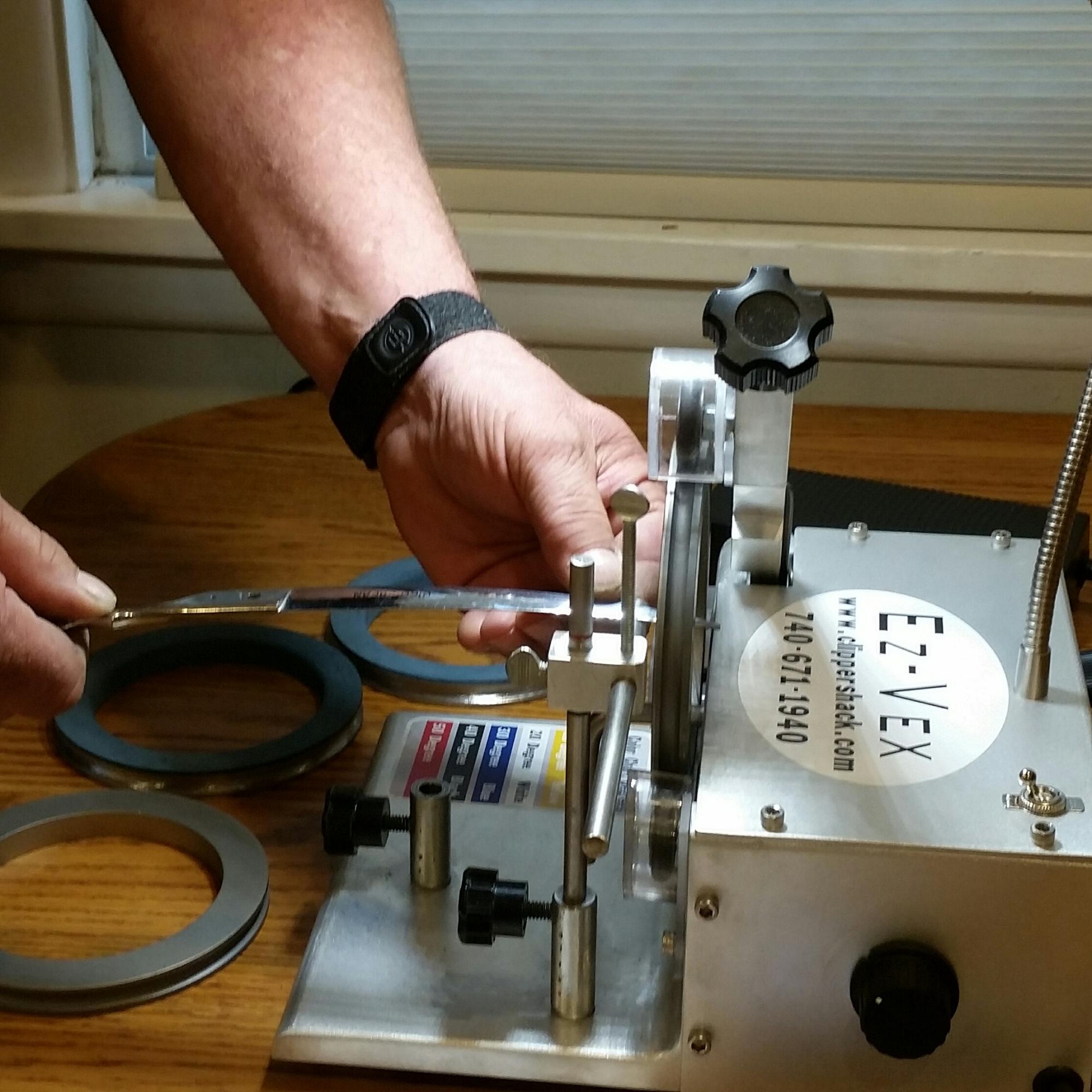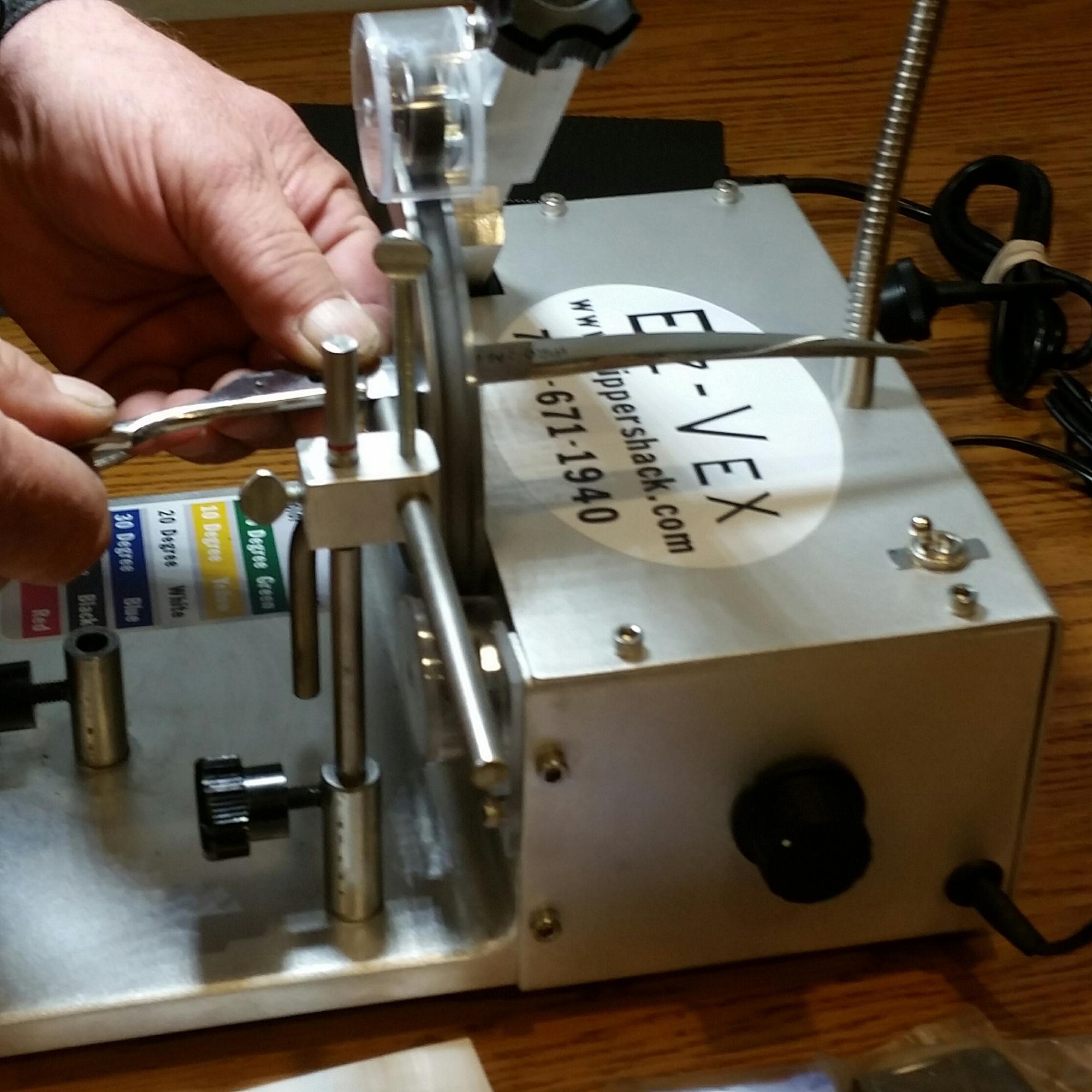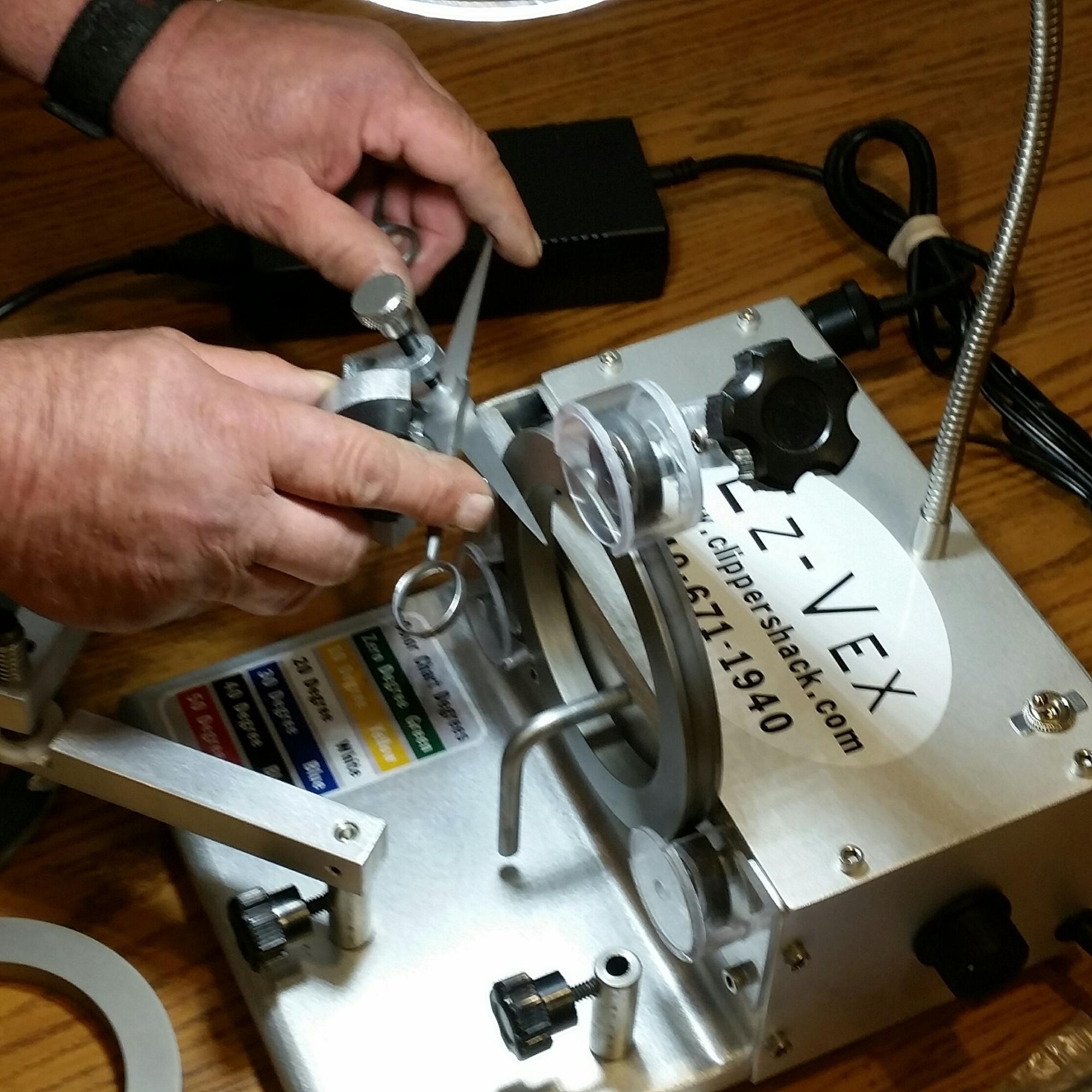 Our Ez-Vex Shear Sharpening System is completely different from a flat hone or a Verticle TAS hone. It removes very little metal and can create a True Convex and a True Bevel Edge. Click the above Downloads at top of this page to see prices.
The Ez-Vex can sharpen both right & left-handed shears with ease, but one of its many strong points is its ability to sharpen the Long Curved Convex (8,9,10 inches and Longer) shears, as well as that it sharpens all convex shears Without having to put a micro-bevel on it first then rolling it to shape a convex edge. This is a Must have for Sharpening. The Ez-Vex is a Must for the sharpener who sharpens Long Convex Pet Grooming Shears.
Ez-Vex Standard Stylist & Groomer is ONLY $2,475
Edit to add your Embed Code.
The Ez-Vex was Designed to give more choices for the Next Generation of Sharpeners. There is now another choice besides the old stand by verticle Grinder (know as the TAS) and a Flat hone.
The New Generation of sharpeners wants an innovational sharpening machine that can address the issues of Easy Convexing while Keeping the Integrity of the shear and only removing as little metal as needed. It needs to be able to sharpen the titanium color coated shears without damaging the finch of the shear and it needs to be able to sharpen the Long Curved Convex Shears that the other methods are unable to do with ease.
Our Ez-Vex is the key to performance and speed without removing un-neccessary metal. The Ez-Vex was designed to do what the new sharpeners coming into the field need and want our of their sharpening systems.
Now with the new solid wheel and reconvexing clamp you can have the best of two worlds,, sharpening from inside the wheel giving you a TRUE Convex edge with ease, and now like a flat hone you can address the cosmetic work on the flat solid wheel using the optional re-convexing clamp.
As seen in the Photo above, the Ez-Vex Package comes complete with Two Diamond Sharpening Wheels (30 & 15 micron diamond) and Two Leather Polishing Wheels (comes with a gray 9 micron polish and a blue 2 micron polish stick to apply to your leather wheels).
The tool post, the Standard round clamp and the arm systems are also included in this package. The Power Supply - which runs on both USA 110v and the European 220v ( European Customers may have to purchase the correct adapter for their country) is included as well. The Ez-Vex runs on a 12v motor with the power supply mentioned above. So this unit can either be taken in a salon shop OR you can plug it into your Van's outlet. A Bright attractive LED light is also included in this Ez-Vex Package. Instructional DVD's, one year warranty, and Free Training at our Ohio facility are included with a direct purchase of a New machine from our company Here in Ohio.
Ez-Vex International Order Form
Click on an Image Order form to Enlarge & Download
Remember: Here At the Clipper Shack, We Offer FREE Hands On Training with direct Purchase from our company.
Many of our Competitors charge $500 to $750 per day of training.
If you want your business to grow, take Training on the machine you choose to purchase. Keep in mind your Stylist and Groomers all took Training for their Profession.
Our company Offers FREE Training here at our Ohio facility when a direct purchase is made from the Clipper Shack. (FREE Training offer at our Ohio facility for our customer's who purchased direct from Us here at the Clipper Shack, training has no expiration date for the original purchaser)
Ez-Vex Independent Trainers "will provide training on the Ez-Vex for a FEE" These are independent Sharpeners and they charge a fee for their training time. These Trainers are NOT FREE, they charge for their time. They are not distributors they are independent trainers. Please Note,, The Independent Trainers Charge a Fee for their time
NBTSG Certified Sharpeners Jesse & Dawn Hockett From Shear Precision in Decatur AL
Chase Warner from Great Shears in Plant City Fl
Rodney Bru from All Sharp in New Mexico
Ez-Vex usa Optional Accessories form
Ez-Vex International Optional items form