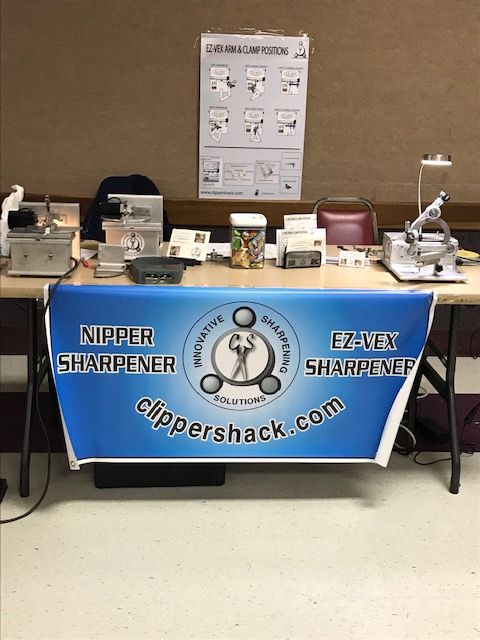 Clipper Shack's Innovative Sharpening Solution's new annoucements
What's New At the Clipper Shack ???
We now offer a Solid Wheel for the Ez-Vex Sharpener, this is an Optional Solid Wheel for Cosmetic Work on a shear if trying to test at one of the guild competitions. This Solid Wheel can be used if Testing at one of the guilds and it also can handle heavy grit hook n loop for doing sewing or industrial beveled shears. We now offer a Re-Convexing Clamp that can be used with the Solid wheel to help with the Cosmetic Work on the shear for those who want to test.Or for those who want the Option of having the option of working the face like flat hones do.
The Ez-Vex Re-Convexing Clamp Review was done by NBTSG Master Sharpeners at Shear Precision Sharpening
Only at our Ohio Facility will the Clipper Shack offer our Free Hands on Training When the Ez-Vex machine is purchased directly from us. If you purchase a used machine or a new machine from someone other than our company the Free Training does not apply. (even if you purchase from one of the independent Trainers, FREE training is for those who purchase Direct From The Clipper Shack)
There are Independent Ez-Vex Trainers who Charge a fee for their training time. These Independent Trainers are not distributors and they are not affiliated with the Clipper Shack
All The Trainers have owned their Ez-Vex machine since 2011 or earlier.
All Trainers are Independent Sharpeners. They charge a Fee for their time.
They are all Independent sharpeners and are NOT affiliated with the clipper shack.
Great Shears from Fl ( Chase Warner ) 407-227-3868
All Sharp From NM ( Rodney Bru ) 505-401-6426
Shear Precision from AL (Jesse & Dawn Hockett ) 256-642-1497
For More Information on the Ez-Vex, Click on our Ez-Vex Page to learn prices
Click on Nipper Machine Picture above to Download Prices
Subscribe to our YouTube Channel